Launch of ATA Carnet Insurance Policy for Start-Ups & SMEs - July 20, 2017
Mumbai, July 20 . Federation of Indian Chambers of Commerce & Industry (FICCI)in association with The New India Assurance Company Limited (NIA), Besso Limited (London Insurance Brokers) and JB Boda Reinsurance Brokers Pvt. Ltd (JBBRIB), Mumbai todaylaunched an Insurance Policy on ATA Carnet for the benefit of Start-Ups and Small & Medium Enterprises (SMEs) in India.
The objective of this insurance policy is to facilitate Insurance coverfor Start-Ups and SMEs in lieu of Cash Deposit or Bank Guarantee against the issuance of ATA Carnets.
FICCI as a National Guarantor for ATA Carnets in India has taken various initiatives for the promotion and smooth functioning of the system in the country. This policy is one of those initiatives to promote use of ATA Carnets among Start-Ups and SMEs in India as they stay away from this service due to current security guarantee requirements in the form of Cash Deposit or Bank Guarantee. It will encourage more and more Start-ups and SME's across India to make use of ATA Carnets and reap the benefits.
Speaking at the occasion, Mr G. Srinivasan, Chairman cum Managing Director, The New India Assurance Co. Limited stated, "This initiativewill contribute effectively to the government's ambitious programme of 'Ease of doing business – Make in India' and lead to increase benefits of the Indian and foreign businessmen in a big way."
Mr Vinay Shankar Mathur, Dy. Secretary General, FICCI stated, "This Policy will boost and support the development of Start-Ups and Small &Medium Companies at the national and international level."
Mr Henk Wit, Deputy Chairman, World ATA Carnet Council (WATAC), ICC, Paris said "This carnet policy is alandmarkin the history of Indian ATA Carnet System and India will soon become one of the top most carnet issuing countries in the world"
ATA Carnet is an international uniform Customs document issued in 78 countries including India, which are parties to the Customs Convention on ATA Carnet. It permits duty free temporary admission of goods into a member country without the need to raise customs bond, payment of duty and fulfillment of other customs formalities in one or number of foreign countries. The ATA System is administered by ICC-WCF World ATA Carnet Council (WATAC), Paris in cooperation with the World Customs Organization (WCO). FICCI has been appointed as the National Issuing and Guaranteeing Association (NIGA) for the operation of ATA Carnet System in India.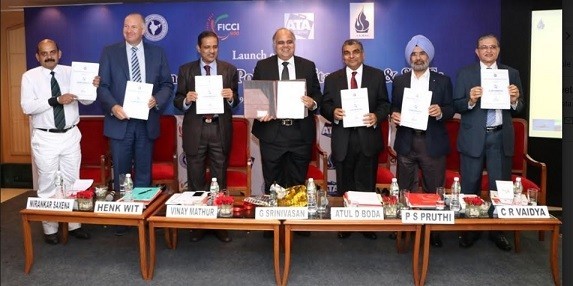 ATA Carnet covers several areas for use including trade fairs, shows, exhibitions, meetings etc. for temporary export into a country, which is a signatory to the conventions governing ATA Carnets. Goods must be re-exported out of every country and re-imported into India within a year. At present 78 countries recognize ATA Carnet, including Australia, Canada, France, Germany, Japan, Korea, Malaysia, Spain, UAE, UK and USA.